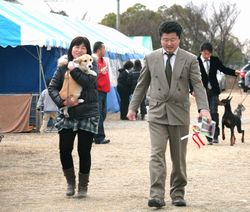 I am Chihiro Muramoto, REDFIVE representative.
I met Corgi in 1993 for the first time.
It was every day that kept being enchanted to a gesture of lovely Corgi and a clever, friendly character.
I participated in the dog show in Japan in 1998.
I have kept chasing ideal Corgi.
Finally, Japan kept standing from a lot of children in the top in these 13 years.
However, I do not think that I have reached the ideal that I think of.
I thought that it was possible to let Corgi have his development and a lot of exchanges , and started the show in the United States.
If the desire to my Corgi is transmitted to everybody by the thing that children " Ran " " Tono " " Lily " whom I love meet everybody, it is glad.
Everybody who loves Corgi! Let's exchange it over the seas.